Silhouette Cameo vs Cricut Explore Air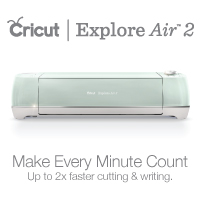 Having the right tool or machine to help us with our crafting hobby is very beneficial. Not only we will be able to create and use so many more design, completing them will be easier and less time consuming as well. Vinyl cutter is one useful machine we should have to cut design we want to use and among those many options, Silhouette Cameo vs Cricut Explore Air are two great items to go. If you are also interested in these machines, go check what they can offer below.

In this article, we are going to give you information about:
– Why using a Vinyl Cutter
– What are Silhouette Cameo and Cricut Explore Air
– What Silhouette Cameo and Cricut Explore Air Look Like
– What Silhouette Cameo and Cricut Explore Air can offer to you
– Silhouette Cameo vs Cricut Explore Air
Vinyl Cutter
People have so many hobbies they enjoy to do when spending some leisure time or to relieve some stress from our daily activities. Since we have different taste and preference, our hobby will most likely be different as well but we are not alone because there are other people out there who will share the same hobby as ours as well. With this diverse market, manufacturers can help people by offering the tools or materials they need to do their hobbies or to support the activities.
One of the most popular hobby is crafting which is covering a very wide activities since we can craft basically almost with anything we often find in daily life. We probably prefer to work with small things such as scrapbooking, making cards, creating a sticker for our vehicle and many more but all people are going to have time or the patient to create small things like this yet, for us they are meaningful and fun to do, moreover, we can put our imagination into real objects.
For those who love to craft, it is great to also have the kind of tool or machine needed to do our hobby since not only they will be helpful to execute related tasks, these technologies is also easy to use and help us cut more time into doing the manual, tedious things that often can be frustrating. One machine you may want to have to ease your job is a vinyl cutter which is also popular for both hobbyist and professional users.
Just like the name, a vinyl cutter is a cutting machine which is used to cut the material we will used based on the design, automatically. This machine is very useful because we don't have to use knife and cut them manually by hand that we know can be very tiring and need lots of concentration, moreover, if you are working with several designs at once. With this machine, we don't have to own the cutting skill anymore and it is also great for beginner.
With the popularity of crafting as a hobby, there are also so many manufacturers out there who offer related machine or tools including vinyl cutter. For beginner or those who never used one before, it can be hard to decide which machine to own but, before choosing from available options, it is good to decide what kind of machine you want first or what capabilities you need to have since each machines may come with different level of capabilities along with some special features.
About Silhouette Cameo
With the numerous options out there, it is understandable that sometime we can get confused when looking for a preferred product. However, if you want to quicken the looking process and narrow down the option, it is good to see what other people have to recommend. For beginner, one vinyl machine you may want to check is Silhouette Cameo. This machine is coming with all the features we will need to create design and cut them in one machine to help completing their project, with a very friendly operation.
Before we are going into the product, the model we are mentioning in this comparison is the older version of Cameo machine which has been available since around 2011. In present day, this model is already upgraded up to Cameo 3 with upgraded features or capabilities as well. For starter, this machine is not suitable for crafters who plan to use their machine to cut thick or stronger materials because there is not enough power to perform the task. Read also: Cricut Explore Air vs. Silhouette Cameo 2 here.
Silhouette Cameo Design
It is easy to differentiate one Silhouette Cameo with the other because their appearance is quite different, moreover, for this early model. As you can see from the sample picture above, this machine is utilizing a small screen and several buttons to operate the machine while in newer model they are upgraded into a touch LCD colored screen. From the shape and size, this machine is coming with the usual printer design and it have a slot to accept SD card while in newer version it is replaced with a USB port.
Silhouette Cameo Features
As it has been mentioned earlier, Silhouette Cameo is capable of doing cutting and drawing when you already have the design you want. This machine unfortunately comes only with one cutting blade which we have to mount on it clamp to cut materials such as paper and fabric and they are not strong enough to cut thicker material like balsa wood or leather, thus we are limited to cut only thin to medium materials only. In addition, with only one clamp, we have to change them often when we need to draw.
What we love from Silhouette Cameo is their design software because here we can create design to be cut or look for available design if we don't want to draw. They are also completely reside in our computer just like other designing program we may already use so we will not going to rely on internet connectivity to draw or create a design in the software. However, they lack of Bluetooth connectivity and we can only use the machine with cable from our PC/laptop.
Another useful features from this machine is their PixScan and Print & Cut capabilities just like what we can find in its newer version. Both of them are used to cut a design in your machine but a little bit different sine PixScan will need a help from your camera to take design picture on its registration mat while the other will print the design with your printer and then we can cut them on the machine.
About Cricut Explore Air
Since there are so many options out there, it is best to also look into the other products first before making up our mind to purchase our initial choice. If you like the kind of capabilities in Silhouette Cameo but want a more powerful machine with an easier connectivity, you may want to take a look at Cricut Explore Air. This machine is also among the most popular with so many users recommending the unit for home use vinyl cutter and those who want to have flexibility in creating design as well as connectivity.
The one we will talk in this article is the older Cricut Explore Air because they are already available in the newer version called Air 2 with an even better features. This machine is released in around 2015 and still one of the best option in the market even for beginner with its dependable capabilities and stronger power to deal with thicker or harder materials. Compared to its predecessor, this machine is upgraded with wireless connectivity and a different color option to set them apart.
Cricut Explore Air Design
From the design alone, there is no meaningful changes on this machine and they are still coming with the same look as well as design. This vinyl cutter is in size of regular printer and made mainly from plastic material, making them very light to be transferred from places to another. It has a small compartment on the left side and control panel on the opposite side consisting of several buttons and a dial knob to set the machine when using different materials.
Cricut Explore Air Features
What we love the most from Cricut Explore Air is the capability to cut different material because they are quite powerful with the cutting pressure and while regular material such as paper and cardstock or vinyl can be deal with the regular blade, they also offer additional deep cut blade if you need to work with thicker materials such as aluminum and leather. This blade is not included and we have to purchase them separately from the brand, but they are very useful to own.
Another thing we love from Cricut Explore Air is their connectivity since this machine is already featured with Bluetooth connectivity, thus we can work from tablet and don't have to always work in your table. Additionally, this machine also comes with two clamps to secure a pen and the blade so we don't have to change thme when moving to another step and pause whatever we are currently working on. For more convenience, we can print our design instead of drawing them and put them on the machine to be cut.
Comparison
Now, let's compare Silhouette Cameo with Cricut Explore Air. As you may already know, the difference between these two vinyl cutters are on the power, connectivity and the amount of clamp they have. Cricut Explore Air is easy winning on those part by coming with more power, have two blade options we can use, have Bluetooth connectivity and comes with two clamps instead of just one.
Silhouette Cameo vs Cricut Explore Air
- The Silhouette CAMEO is the ultimate DIY machine, It uses a small blade to cut over 100 materials, including paper, cardstock, vinyl, and fabric up to 12 in. wide
- Use the powerful Silhouette Studio design software to create your projects. Features Bluetooth technology for wireless cutting or plugs into your home computer
- The Cricut Explore Air 2 is your personal DIY cutting machine. Make custom vinyl stickers, personalized home decor, unique greeting cards, custom designed apparel, and more
- Upload your own images for free or choose from Cricut's vast library of pre-made designs and projects. Double tool holder for cutting and writing or cutting and scoring in one step
Conclusion
All in all, the decision is all yours because we may have different preference. However, after considering the price and features, if you want to pick the better option, we will recommend you to choose Cricut Explore Air because with a more affordable price, this machine offer more power for those who want to work with tougher materials and wireless connectivity.