Cricut Maker vs Silhouette Cameo 3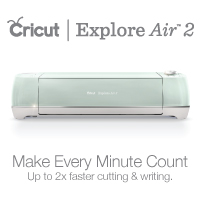 Owning a cutting machine is almost all crafters dream. Not only able to help your work to be more efficient, these kind of machines also help you creating a wide range of design as far as your imagination can go. Among those many products out there Cricut Maker and Silhouette Cameo 3 are two great options to go. If you want to know more about them, go check our article below.
In this article we are going to give you information about:
– What is Cricut Maker and Silhouette Cameo 3
– How Cricut Maker and Silhouette Cameo 3 Look Like
– What Cricut Maker and Silhouette Cameo 3 can offer to you
– Cricut Maker vs Silhouette Cameo 3
About Cricut Maker
Cricut Maker is a cutting machine that can be used by crafters to cut the pattern you want easily and less time consuming. Released not long ago, the machine is still a buzz in the crafting world and claimed to be the better and updated version of its predecessor as well as game changer for sewists, quilters or other crafters. The company said that the machine comes 10 times stronger compared to the previous machine to cut thicker materials.
Cricut Maker Design
From the outside, Cricut Maker looks just like your typical printer in white color made from plastic material. At the left, you will get a storage cup to place your equipment and at the top below the cover, you can find a slot to place your mobile devices, such as iPad.
Shift to the right, there are a few buttons to operate the machine; one power button, one pause button, Go button, and load/unload mat button. Measuring at 22.6 x 7.1 x 6.2 inches, you can place the unit easily in your working desk without consuming too much space.
Cricut Maker Features
The best feature in Cricut Maker is the Adaptable Tool System, which will adjust the direction of the blade and tune the pressure to match the material of your choice. With this ability, the machine will be able to use the right approach no matter what material you use and eliminate the tearing or cutting too shallowly like in the past because now you can get a perfect result every time.
With the Two Tool Capacity, you can draw perfect words, phrases, and calligraphy using its point pen, the calligraphy pen or the washable fabric pen. If you want to make paper folded crafts, you can use the scoring stylus to create crystal clear lines in the paper. Cricut Maker comes with 4 types of tools; rotary blade, knife blade, scoring tool, and fine and deep point blade. The software comes with the machine is compatible with most iOS and Android users as well as Mac or Windows.
The software have many ready to be used designs, but you can make them manually according to your imagination if you want. The software support various formats, such as JPEG, PNG, GIF, and BMP. If you don't want to use the Cricut Maker software, you may also use any other design software of your choice.
About Silhouette cameo 3
Silhouette cameo 3 is a cutting machine that you can use to cut fabric or other material according to your pattern or pictures. This machine is a great tool if you are a crafter who often made your own design since you can make them from scratch with the machine own software. Have been launched since 2011, Silhouette cameo 3 is still popular for its ability in capturing the imagination of arts and crafts enthusiast to create whatever they want.
Silhouette cameo 3 Design
From the outside, as you can see Silhouette cameo 3 still has that printer look just like many other similar machines out there. The unit looks very simple with little to no detail. The material used is plastic in white color and when you open the cover, you can see a touch screen that you can use to operate the unit and on its right side while on the left side, there is a built in accessory storage to store spare blades. (Read also : Silhouette Cameo vs Cameo 3)
Silhouette cameo 3 Features
One of the best features in Silhouette cameo 3 is the Dual carriage. Unlike in the previous machine where you have to stop the machine to swap the blade or pen when you want to draw or cut on a project now you don't have to do it since with the dual carriage you can hold a pen and a blade at the same time. To secure them better, the unit utilizes a push locking system instead of using the twist mechanism like in other Silhouette machines.
As it has been mentioned earlier that Silhouette cameo 3 is able to capture artist ideas for it comes with free software to create your design from scratch. Not only that, this machine comes with Print and Cut feature. Using the software, you can send an image to your printer to be printed and not just a picture, the printed version will have little registration marks in its corners and then your Cameo will detect these marks to cut the design precisely.
Another great thing on Silhouette cameo 3 are the PixScan Technology, which is rather similar to the Print and Cut above. The difference is rather than printing the design, the image is placed on the PixScan cutting mat that already have registration marks. The next step is to take a picture of the material that have been placed on the mat using camera or smartphone and then you can send it to the design studio to trace the lines and cut your material.
As for the blades, Silhouette cameo 3 comes with 3 types of blades namely Standard blade, Deep Cut blade, and AutoBlade. Most projects can be done using the standard blade but if you want to cut thicker materials, you should choose the deep cut blade. The AutoBlade is the one blade that will automatically adjust its depth based on your material.
Comparison
Now, let's compare Cricut Maker with Silhouette Cameo 3. Both machines have the same ability in holding two tools at once to enhance your workflow and eliminate changing times. From the freedom to create your own design, Silhouette cameo 3 is better with its Print and Cut as well as the PixScan feature. From the performance, Cricut Maker performs better in cutting paper while Silhouette cameo 3 is better in cutting vinyl.
Cricut Maker vs Silhouette Cameo 3

- Cricut Maker gives you the freedom to make everything from paper crafts, iron-ons, and vinyl decals to sewing projects, leather crafts, and balsa models.
- Expandable suite of tools. With its powerful blades, pens, and scoring tool, Cricut Maker grows with you as you learn each new craft.
- New Rotary Blade. With its gliding, rolling action, this blade cuts through virtually any fabric quickly and accurately – without backing material.
- New Knife Blade (sold separately; coming in 2018). This extra-deep blade slices through heavier materials like 2.4mm (3/32") balsa wood and matboard with ease
- Simplifies sewing and quilting projects. Choose from hundreds of digital sewing patterns, and Cricut Maker cuts and marks all the pieces – you just sew them together!
- Cuts a variety of material including vinyl, paper, cardstock, fabric, and other materials up to 12 inches wide and 10 feet long.
- Use the powerful Silhouette Studio design software to create your projects. Features Bluetooth® technology for wireless cutting or plugs into your home computer.
- Features a dual-carriage for multi-tool use and a higher 2 mm clearance to cut thicker materials. Is compatible with Print & Cut and PixScan technology.
- Is the only Silhouette compatible with the self-adjusting AutoBlade.
- Includes Silhouette CAMEO cutting machine, Silhouette Studio software, power cable and USB cable, 12-Inch Cutting Mat, AutoBlade cutting blade.
Conclusion
All in all, the decision is all yours to make. We do think that it is better to suit the machine with the kind of craft you are going to work with. However, taking the features and price of both products, we highly recommend you the Silhouette cameo 3 for its rich features yet comes in an affordable price.