Cricut Explore Air vs Silhouette Cameo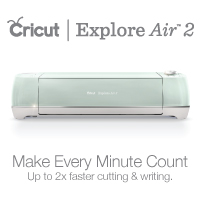 Cricut Explore Air and Silhouette Cameo are two die cutting machines that was popular among crafters in the last few years. These machines are not new anymore but their ability to make any crafter's life simpler is undoubtable. If one of them catch your attention, you may want to check our article first before making any purchase to help you know which machine is the best for you.
In this article, we are going to give you information about:
– What are Cricut Explore Air and Silhouette Cameo
– What Cricut Explore Air and Silhouette Cameo Look Like
– What Cricut Explore Air and Silhouette Cameo can offer to you
– Cricut Explore Air vs Silhouette Cameo
About Cricut Explore Air
Cricut Explore Air a cutting tool that is quite popular among crafters for its dependability to help them with their works. This tool is versatile enough to cut a wide range of material, such as vinyl, leather or even wood depend on how good you set them. Owning this machine will surely boost your creativity for you can execute your design without the complicated part of cutting the materials. Whatever design you pick or make, Cricut Explore Air will cut them for you.
Cricut Explore Air Design
From the outside Cricut Explore Air looks like a printer from unfamiliar people point of view. The machine is mainly white in color while the footing is blue and made out of plastic material. At the top left side, you will find the machine dial and a few buttons for load/unload unit, go, and pause. At the opposite side, you will find a tool compartment to store help make your space manageable and a cartridge slot with the button to open it.
Cricut Explore Air Features
With Cricut Explore Air you can use the two clamps inside to hold on two tools at once. For example you will be able to hold one pen and one knife, so you don't have to stop the machine and do the adjustment when you move from one stage to another. This is an important feature because your workflow will be enhance and undisturbed by the changing process. As it have been mentioned earlier that this machine is versatile for its ability to cut a wide range of material.
What you have to know is it is versatile enough to cut material like paper, vinyl, fabric and cardstock as well as materials like aluminum, leather, and foam. However, you will still need to purchase additional deep cutting blade to work with thicker materials. You can check the list of materials it can cut in Cricut site.
Cricut Explore Air works with an online software called the Cricut Design Space. This online software brings frustration in its user when the machine was recently released because you have to always connect to the internet to use it. However, thanks to the new update, now iOS users will be able to use the app without internet connectivity. This software can't be compared to your Adobe Illustrator, but it is easy to use and contains many designs available for free.
Another great thing in Cricut Explore Air is the built in Bluetooth, so now you don't have to use cable to connect the machine with your computer. Even though this don't affect the machine performance, at least you don't have to deal with manually hooking the cable and if you still want to use the cable there is a USB port to plug it. Go check our previous article on Cricut Explore Air vs Cricut Explore One here.
About Silhouette Cameo
Silhouette Cameo is another popular cutting machine among crafters. This machine is able to handle a wide range of materials and is the holy grail of many crafters out there. This machine is more than enough for those who want to own a basic die cutter. For starters, you will be able to draw your own design without having to rely on cartridges and get the freedom to cut your own design. Doesn't matter if you are a novice user or people who already have some experiences with similar machines, the Silhouette Cameo is very easy to use.
Silhouette Cameo Design
Just like many cutting machines out there, Silhouette Cameo also looks like a piece of printer rather than anything. The material used to build it is plastic in mainly white with an accent of grey on some of its parts with the logo placed on top of the unit. When you see beside the cover, you will find the small screen and a few buttons at the right side that you can use to operate the machine.
Silhouette Cameo Features
When this article is written, Silhouette Cameo already have its newer versions but you will still able to find it in Amazon. You can use the machine with three standard blades namely regular blade, fabric blade, and a sketch pen, so you can adjust the tool tr whatever you are working on. The regular blade is used to cut paper and cardstock, the fabric blade is used to cut fabric while the sketch pen is used to draw your design into the materials.
There is only one clamp to hold the tool, so you have to change it when moving to another step. The process will require you to unscrew the current tool and replace it, so it won't take too much time. As for the pen, the brand also sell a pen holder adapter to make the machine able to hold into any size pen instead of their sketch pen only. Coming with the unit, you will get two cutting mats. If you are not familiar yet, cutting mat is used to feed your project through the printer.
This mat will acts as backing for the blade or pen to cut or draw onto because if you don't use the mat, your Silhouette Cameo won't be able to do its work. Another great thing in this die cutting is it comes with its software CD to make your own design. What you have to keep in mind is this machine also won't work without the software.
Comparison
Now, let's compare Cricut Explore Air with Silhouette Cameo. There are many differences between these machines. First is the tool clamps because Explore Air ables to hold two tools at once while Cameo only comes with one tool clamp. Second is the ability to work with a wide range of material because Explore Air is able to cut many tough material depend on the blade and settings while Cameo's ability still limited here. Another difference is the built in Bluetooth since Explore Air is able to connect without cable while Cameo still need the cord.
Cricut Explore Air vs Silhouette Cameo

- Dual carriage for cutting and writing or cutting and scoring in one step
- Upload your own images for free (.svg, .jpg, .png, .bmp, .gif, .dxf) Cut over 60 materials from vellum to leather
- Smart Set dial for easy material settings, Free Cricut Design Space online software and iPad app
- The silhouette cameo starter bundle includes an extra mat (2 total), cutting blade (2 total), metallic pen set and pick-me-up-tool
- Cuts up to 12-inch wide and 10-feet long; cuts a variety of materials from vinyl to fabric
- Great for Scrapbook layouts, cards, custom apparel, vinyl decor, etched glass, sketch designs, and paper crafts
Conclusion
All in all, the decision is all yours to make. In our opinion because Cameo released earlier than Explore Air, their ability also differ. However, in this article we will highly recommend you Cricut Explore Air over Silhouette Cameo for its all over better features.