Cricut Explore Air vs Cricut Explore One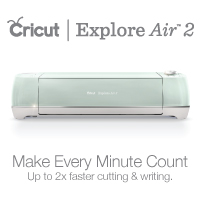 Cricut Explore Air and Cricut Explore One are two cutting machines from Cricut Explore line, which is the continuation of Cricut Expression 2 and a very popular machine among crafters. Both machines are equally dependable and come with some similarities as well as differences. If you are interested in one of them, you may want to check our article below first before making any purchase to make sure you are choosing the right machine for you.
In this article, we are going to give you information about:
• What are Cricut Explore Air and Cricut Explore One
• What Cricut Explore Air and Cricut Explore One Look Like
• What Cricut Explore Air and Cricut Explore One can offer to you
• Cricut Explore Air vs Cricut Explore One
About Cricut Explore Air and Cricut Explore One
Cricut Explore Air and Cricut Explore One are released back then in 2015 and have been popular since then. When this article is written, the newer version of the machines were already released and it means they are more affordable for you now. The machines are great for beginners and those who works with a wide range of material in their work for it able to handle vinyl to leather and wood material, so you can say that it is versatile enough for common fabric and material.
Coming from Cricut, you don't have to worry about the quality and capabilities of these machines for they are definitely able to deliver what they have promised. As it have been mentioned earlier there are already newer version of the machines, so you may not able to find them easily but you will still able to grab them at online platform like Amazon in more affordable price.
Cricut Explore Air and Cricut Explore One Design
Looking at Cricut Explore Air and Cricut Explore One from the outside, you can't tell them apart if you don't know which is Air and One if not because of the name printed on the front, since they are coming with the same design. If you are not familiar with cutting machines, these two look like a regular printer with a sleek and simple design in mostly white body made out of plastic material as well as different color footing.
Both of them measures around 2.5.4 x 10 x 9.2 inches and in approximately 16.89 pounds and they won't take too much space in your working desk as well as easy to carry alone. At the right top of the unit, you will get the dial and few buttons to operate the machines while at the opposite side you will find an accessories and cartridge compartment. When you purchase the unit, you will get a kind of bag to carry your machine, which is very convenience if you plan to use it in more than one establishment.
Cricut Explore Air and Cricut Explore One Features
When you open the machines, you will the see the head clamp, which differentiate Cricut Explore Air and One. In Explore Air, you will find 2 head clamps while in One you will only get one clamp, which is probably why the machine named "One". With Air, you will be able to make the machine carry two tools at once, for example one for blade and the other for pen but you have to pick only one with Explore One.
The two head clamps is very beneficial to help you fasten your working speed since you don't have to stop first and change the tool and set everything back up. You will be able to draw and cut continuously without breaking the workflow. Before you are ready to cut the material of your choice, at least you have to get familiar with the dial to adjust the blade. You also don't have to worry when using special material for there is a custom setting that you can choose from preset material list.
Another great feature in Cricut Explore Air and Cricut Explore One is the Print and Cut. This feature will let you print image from your computer with registration marks that when loaded into the machines it will automatically cut it according to the marks. There is an option called "bleed" to give the image a tiny border and make sure there is no white space left when the cutting process is over.
What you need to pay attention is you only able to use these machines with the online software and if you don't have internet connection, you may want to reconsider your choice with these machines. The cartridges also only able to be used when connected to your online account and you can't use it independently. For another similar machines, check our article on Cricut Maker vs Silhouette Cameo 3 here.
The software called Design Space Software and you will need a good internet connection to access it and when your connection is slow, you may have some problems using your machine. The main intention of using the method is to let all user get the latest software and to eliminate the installing process. All of your files also stored in the cloud and even though not everyone love the method, it is proven to be effective if you have good internet connection.
The Software will let you make your own design but it is more intended to manipulate existing shape rather than making them from scratch and is definitely not designed to replace software like Coreldraw or Inkscape. The Cricut software is compatible with various file types, such as .svg, .dxf, .gif, .bmp, and .jpg.
Taken from toptenreviews to connect the machine into your computer Cricut Explore Air have built-in Bluetooth connectivity, so you don't need to deal with cable while if you choose Explore One, you only able to connect it to your computer with cable. However, if you want to go wireless like Explore Air, you can purchase a separate Bluetooth adaptor to enjoy the same ability.
Comparison
Now, let's compare Cricut Explore Air with Cricut Explore One. As it have been mentioned earlier the difference between two machines is the head clamp and the built-in Bluetooth because Explore Air have two head clamps and built-in Bluetooth while Explore One only have one head clamp and no built-in Bluetooth connectivity.
Cricut Explore Air vs Cricut Explore One

- Embedded Bluetooth for wireless cutting
- Dual carriage for cutting and writing or cutting and scoring in one step
- Upload your own images for free (.svg, .jpg, .png, .bmp, .gif, .dxf) Cut over 60 materials from vellum to leather
- Smart Set dial for easy material settings, Free Cricut Design Space online software and iPad app
- Upload and cut your own images for FREE
- Design here, there and everywhere with free cloud-based apps for PC, Mac, ipad, and iphone
- To cut wirelessly upgrade your machine by adding the wireless Bluetooth adapter (sold separately)
- Cut a wide variety of materials from paper to iron-on to adhesive vinyl- even leather
Conclusion
All in all, the decision is all yours to make. In our opinion, Cricut Explore Air is clearly better but mainly for the double head clamps, so you don't have to stop the machine and change the tool, which will takes up more time and slowing your workflow. Based from the comparison, in this article we will highly recommend you the Cricut Explore Air over Cricut Explore One.