Brother ScanNCut SDX125E vs Silhouette Cameo 4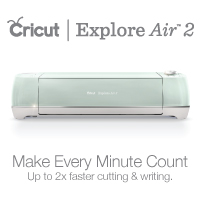 If you're into craft, then you may already know or even have an electronic cutting machine. For those who don't know or recently get into craft and looking to buy one, we have your back. An electronic cutting machine is a specifically designed machine to cut materials, such as paper, fabric, or metal into a certain shape as you like. This machine comes in various size and type, the big ones are mostly used in industrial and commercial for manufacturing, while the smaller ones are usually used for personal use like home craft or Do-It-Yourself projects or even small business.
Now, as we said before, we got you covered. That's why we narrow down two electronic cutting machines for you to choose. For this article, we pick Brother ScanNCut SDX125E and Silhouette Cameo 4. Both machines are under $400 dollars, but which one is the most worth it? Let's find out.
Brother ScanNCut SDX125E
The Brother SDX125E ScanNCut cutting machine comes with 682 built-in designs, including 100 quilt patterns, and 9 letter fonts. These provide you with multiple ways to quickly create and edit designs on the 5 inches LCD touchscreen display and 76 SVG files are included. Brother ScanNCut SDX125E doesn't only work as an electronic cutting machine, it also has built-in scanner to make crafting easier, you can scan your own pattern and transfer them on materials that you want. The scanner resolution is 600 DPI, which is enough for clear and sharp images, and the scanner width is 11.7 inches, wide enough for crafting materials.
| | Brother ScanNCut SDX125E | Silhouette Cameo 4 |
| --- | --- | --- |
| | | |
| Product Dimensions | 8.4 x 20.9 x 6.8 inches | 7.87 x 22.44 x 6.69 inches |
| Shipping Weight | 1 pounds | 13.7 pounds |
| | click here | click here |
This machine is also compatible with Wi-Fi, you can even access more patterns from CanvasWorkspace cloud to find design for Birthday Collection, Greeting Cards Collection and Flowers & Valentines Collection. With a simple internet connection, you'll be able to access and work with Brother CanvasWorkspace to create virtually anywhere and anytime. Work remotely with your tablet, mobile device, or PC. This Brother cutting machine is wireless network ready. While connected to the same internet network, wirelessly send your cut files directly to the machine easily.
The main feature from the SDX125E is its Blade Sensor Technology. The auto blade detects the height or thickness of material once you put it in so you don't have to manually adjust the blade or material selection. It's also capable of cutting thicker materials because its machine blade can cut up to 0.1 inches or 3 mm in thickness. This allows for more wide-variety of materials to cut, like foam and felt for more effortless crafting experience. Moreover, the machine is big enough to cut larger scale projects. It can accommodate up to 12 inches wide material and up to 1785.3mm (70.2 inches or 5.85 feet) in length with the new roll feeder function that accommodates our ScanNCut adhesive vinyl rolls.
The machine also works quietly, it cuts and scans with little noise so you can enjoy crafting in silence with no distracting noise. The quiet mechanism is also perfect for use in small office or business setting where noise can be very distracting. Furthermore, Brother SDX125E provides additional accessories to draw or emboss and foil, you can expand your creative possibilities and create mixed media personalized projects. The ScanNCut DX machine has plenty storage for blades, touch pen, and other tools right inside the front cover. These compartments stay put with the magnetic closures and the storage area can be used as a wide-flat work surface for securing materials to the mat. For smooth, even mat feeding the machine has a slide tray in the back.
The Brother SDX125E costs $399.99 and weigh 12.79 pounds and measures up 20.906″ x 8.465″ x 6.811″. It also has USB port that allows you to connect a USB drive to save and recall data, although it doesn't come with USB cable. Moreover, it includes pen holder and black pen, or optional universal pen holder to write or draw. Brother provides 1 year limited parts & labor, 2 year limited electronic components and printed circuit boards to guarantee if any parts are error or broken. Furthermore, the purchase comes with instruction booklet on how to set up and use the machine so it's perfect for beginners. The small size and light weight are convenient for crafting at home or small business. It's a great investment if you want to start crafting. Read also: Brother CS6000I vs CS7000X.
Silhouette Cameo 4
The Cameo 4 is a 12-inch width desktop cutting machine that lets you make precision cuts in vinyl, cardstock, fabric, and more. It's Bluetooth compatible and use AutoBlade. This Silhouette AutoBlade 2 is available exclusively for the Cameo 4. With the AutoBlade, you don't have to manually adjust your blade, the machine will detect your fabric or material and adjust the blade accordingly. It also comes with Silhouette Studio software program which will provide recommended cut settings for common material types, and you can adjust them in the software as you like. After sending your design into Silhouette Cameo 4, the machine will automatically adjust your AutoBlade to the blade setting you chose in the software. The blade is made with sintered tungsten alloy that's rust-free and sharp so it can cut through any thick fabric. The blade length ranges from 0.1 mm to 1 mm.
Furthermore, the Cameo 4 features a built-in roll feeder. Since specific rolled materials, such as vinyl and heat transfer material, have their own backing, they generally do not require a cutting mat and can be fed directly into the Silhouette cutting machine. The Roll Feeder provides a simple and convenient way to grip rolled material as it is being inserted into the Silhouette cutting machine, therefore allowing you the convenience of cutting longer jobs while properly aligning your material so that it is straight as it's inserted through the machine. The Roll Feeder is capable of accommodating 9 to 12 inch wide with maximum roll Diameter up to 4.5 inches and maximum material core size up to 3 inch. Moreover, the Cameo 4 has built-in Cross Cutter on the back of the machine. This cutter is rotary style and capable of making clean straight edge cut on your vinyl roll for your craft. It lasts longer and creates the perfect cut each time.
Accommodated with Software, Silhouette Cameo 4 is available wherever and whenever you need it. This unique software is highlighted with features normally found in high-end illustrating software, yet is straightforward easy to use and doesn't have additional cost, it's included upon a purchase. Using this software, you can create your design and transfer it into the fabric as you like, it gives you countless ways to customize your project. Not only that, the Silhouette software comes with a Plug-in that allows you to design and cut directly from other programs such as CorelDraw, Photoshop or Adobe Illustrator using Silhouette Connect. It's very convenient and versatile. Furthermore, the Cameo 4 is equipped with dual carriage which allows for tool detection. The machine's is capable of recognition using tool sensor technology that detects what tool you are using which then triggers the software to adjust cut settings automatically.
For more expansive options, the Silhouette Design Store provides a marketplace of ready-made shapes to use with the Cameo 4. There you will find over 100,000 downloadable designs from various talented artists. Each purchased design is yours to keep and use as much as you want. You can build your own personal digital design library and use whenever you want. With the Silhouette Design Store, you don't need monthly subscription since you only pay for the designs you want, no need for expensive cartridges or access to shapes you'll never use. This Silhouette Cameo 4 machine cost $299.47 and available in 4 colors: black, white, pink, and blue. Each purchase includes Silhouette Cameo 4 machine, power cable, USB cable, 12-inch cutting mat, AutoBlade, Silhouette Studio software, 100 exclusive designs, and 1-month Silhouette Design Store subscription.
Brother ScanNCut SDX125E vs Silhouette Cameo 4
- Scan drawings and materials: Brother ScanNCut is the only cutting machine series with a built-in scanner. Scan your drawing to convert it to a cut file, directly cut printed stickers, and precisely place designs without counting blocks
- Stunning DIY projects: Craft with 682 built-in designs including 100 quilting patterns and 9 fonts. Add custom designs and additional free patterns with the USB port and wireless capability, and customize and combine your projects with the easy-to-use 5" touchscreen LCD display
- No material selection required: The included ScanNCut DX auto blade and auto blade holder uses true automatic material sensor technology to detect the thickness of the material with no blade adjustment or material selection required. Always perform a trial/test cut to confirm a successful cut
- Cuts up to 3 millimeter (0.1 in) thickness: The Brother Home Electronic Cutting Machine effortlessly cuts materials up to 3mm thick such as paper, vinyl, fabric, balsa wood, chipboard, foam and felt
- The silhouette Cameo 4 is the evolution in desktop cutting. The sleek Backlit touch panel lets you load, unload, and pause your projects in style. Conveniently stored in the machine's compact pull-out drawer is a new built in roll feeder for quickly cutting vinyl and heat transfer material directly from a roll. On the back of the Cameo 4 You will find a built in cross cutter allowing for a clean straight edge cut on your vinyl roll for your next project.
- The Cameo unique dual carriage allows for tool Type detection. The machine's ultra-smart system uses tool sensor technology that detects what tool you are using which then triggers the silhouette Studio software to adjust cut settings automatically.
- The Cameo 4 stands apart from previous models with the new dual motor system, which allows you to cut in two distinct ways. Carriage one provides the Cameo 4 with unparalleled speed. It is operated from a solenoid motor that gives makers smooth and intricate cuts. Cameo 4 can cut or sketch up to 3x faster than previous models without sacrificing accuracy. Carriage two is operated by an entirely different style of motor that allows for unprecedented power.
- The Cameo 4 carriage 2 boasts additional cutting force! With the increased downforce of the Cameo 4, we now offer a new rotary and Kraft blade (Sold separately) that have been specifically designed to operate with the Cameo smart tangential technology. With smart tangential technology the Cameo 4 cuts thicker material without sacrificing quality with each cut. The Cameo 4 offers true mat-less cutting which allows cutting cardstock, paper, and other materials without using a mat.
Conclusion
For under $400 dollars, both products have excellent feature. Brother is slightly smaller with 11.7 inches wide while Silhouette has 12 inches width. Brother is also far more expensive and it has features similar to Silhouette. Both has AutoBlade, Roll Feeder, and dedicated software that's compatible for them machine but for the price, Silhouette Cameo 4 is more worth it. It's cheaper but offer so many design, it's also wider so it accommodates more materials.